AdvantaClean of The Piedmont, Burlington Case Studies
Success Stories
Location: Gibsonville, NC 27249
Problem: We received a call from a customer that just had leak fixed in their crawlspace. They did not know how long this leak was going on for because this was a rental property. I went out and inspected the crawl space and found mold growth on 90% of their floor joists. I explained our service for crawlspace remediation and gave an estimate. I also worked with their insurance adjuster as well. Our customer referred us to his neighbor because they were having the same issue with a leak in their crawlspace.
Solution: We were rewarded the job and got it scheduled right away. We put the crawl space under negative pressure, using our air scrubber. Our crew pulled out all of the wet insulation and hauled it off site. We then began the remediation process by HEPA vacuum all flat surfaces in the crawl space. Then we wiped with an Anti-Microbial solution and got rid of the mold. After the crawl space was clean and dried out, we installed sub floor insulation and vapor barrier. We ended up doing Mr. Apple crawlspace and the neighbors crawlspace as well.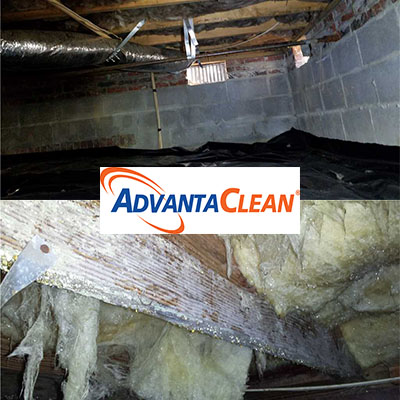 Location: Greensboro, NC 272253
Location: Thomasville, NC 27360
Problem: Mold Removal, Air Duct Cleaning and Indoor Air Quality
A customer reached out to AdvantaClean about being sick all the time with allergies. They tried everything to get better but nothing worked. We came out to do a full mold inspection and found mold in the crawlspace and in the air duct system.
Solution: AdvantaClean performed a full crawlspace remediation which included removal of the sub floor insulation, thoroughly cleaning the floor joists and having the crawlspace under negative pressure. AdvantaClean also cleaned the entire air duct system. After several weeks the customer came by our office to say Thank You because he said he has a clean bill of health. What a great thing to hear!