Water Damage Restoration, Mold Removal & Air Duct Cleaning with AdvantaClean of Monroe
Commercial Business Sanitizing
Trust AdvantaClean to Get the Job Done!
For a Healthy Home & Business
AdvantaClean of Monroe
We are committed to the health and well-being of our community.
AdvantaClean on Monroe has well over 20 years of experience under its belt. We are owned and operated by Lyle Nearby. Located in Indian Trail NC, we opened our doors in 2010 we have made the necessary investment to hire the best and most experienced people. With an additional 35 years worth of experience in the customer service industry we pride ourselves on providing the best customer service in the business. We hold certifications in various industry related services and more.
We all try to avoid water damage, but it happens to the best of us. So when it does in your home or office, reach out to the water damage restoration experts here at AdvantaClean of Monroe. Our response teams are the best in the business when it comes to every kind of flood cleanup, sewer cleanup and other flooding situation. We take water damage seriously because we know the impact it can have on the people you live and work with. Why trust something as important as water damage restoration to anyone other than a world-class leader in water removal services? Since 1994, AdvantaClean has been the leader in moisture control and flooding mitigation services and we're certified by the Institute for Inspection, Cleaning and Restoration Certification (IICRC). Even if you've got a nasty sewer cleanup, there's nothing we can't handle and we guarantee you'll be satisfied with our work. So call us now!
Mold Remediation, Water Damage Restoration & Air Duct Cleaning in Monroe, NC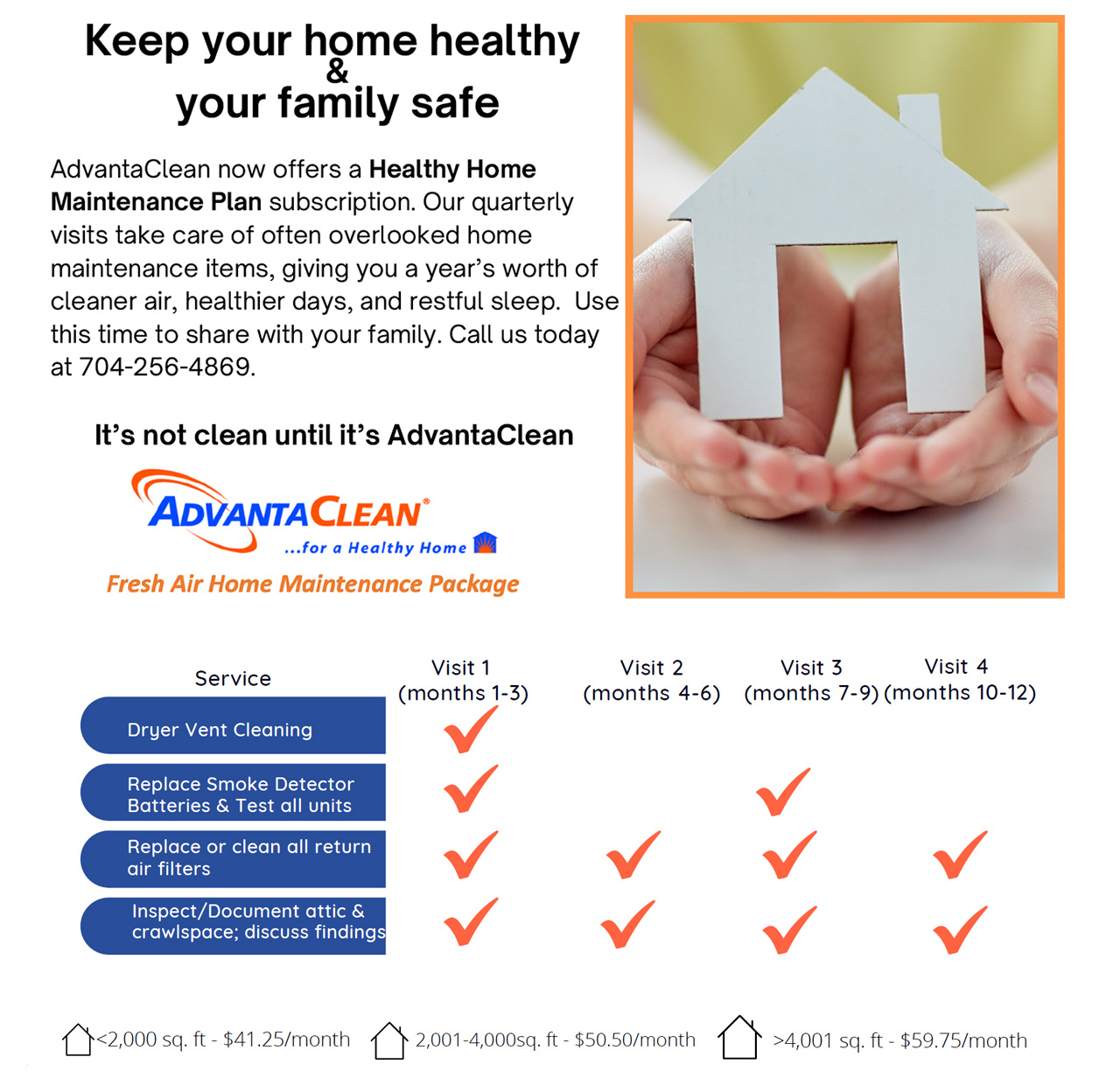 Mold remediation is another area that requires expertise and the right equipment, and our mold removal technicians know how to make your black mold or any other mildew mitigation situation disappear. Our crews are certified by the National Organization of Remediators and Mold Inspectors (NORMI) and from the mold inspection and mold testing phase to the mold removal and mold remediation process itself, we find every spot of toxic contaminants and we suction them away, leaving an anti-microbial solution in place to keep the black mold away for good. Can you really "DIY" a mold testing or mold inspection to the same degree that we can? You can try, but we're confident you'd rather have us find all the mold hiding behind your walls that isn't visible to the naked eye. Let us put our equipment and our people from AdvantaClean of Monroe to work for you today!
A comprehensive air duct cleaning and dryer vent cleaning service can make all the difference for the air quality in your home, and when you contact AdvantaClean of Monroe what you get are air duct cleaning crews that apply all the techniques recommended by the National Air Duct Cleaner Association (NADCA) so you'll know that your home and office are getting the cleanest, freshest air possible. The National Fire Administration recommends a thorough dryer vent cleaning each year to minimize your risk of dryer vent fire, so let us handle it for you. From your attic to the basement, your ventilation system, your lungs, and your family and friends will thank you!
Have you thought about a basement waterproofing or crawl space encapsulation service to protect the foundation of your home and business? If not, let us show you how eliminating basement moisture and crawl space moisture can make a huge difference for your utility bills, your health, and your property value over the long term. We'll seal all the cracks in your foundation, equip you with the right sump pump and dehumidifier, and get rid of all the unwanted basement moisture and crawl space moisture that contaminate the underside of your structure and then affect the rest of your home and office's air quality all the way up to the attic. Crawl space encapsulation and basement waterproofing sound expensive and complicated, but we'll walk you through the process and show you how affordable it really is. We're standing by here at AdvantaClean of Monroe to serve you and your loved ones right away!
Healthy air is so important for your overall quality of life at home and work, so when it's time for any sort of moisture control, flood cleanup or other water removal service, then contact us at AdvantaClean of Monroe any time of the day or night so we can unleash our decades of experience for the good of you, your family and coworkers, and the places where you live and work. We'll prove to you that it's not really clean unless it's AdvantaClean!
Our Reviews Speak for Themselves
There Are Many Things We Do Well And We Are Known For Being The Best!
AdvantaClean Partners with Extreme Makeover: Home Edition
Extreme Makeover: Home Edition previously aired for nine years (2003-2012) and quickly grew to become a beloved household favorite. The most transformative and inspirational show is back on television with 10 new episodes on HGTV featuring Modern Family star Jesse Tyler Ferguson as the new host. The series highlights families that encourage positive change by giving back to their communities and the volunteers they've inspired to transform their home in seven days.
Learn More